Moree Hospital, NSW
Regional New South Wales hospital makes significant savings on patient transport costs during refurbishment thanks to Aspen Medical's modular clinical infrastructure solutions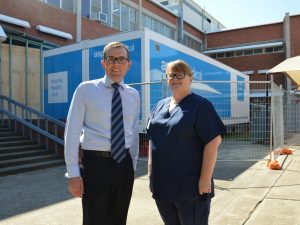 Background
Moree District Hospital began one of its largest capital improvement projects in over 30 years in April 2016. The major refurbishment of the existing operating theatres involved major ventilation and air conditioning works, asbestos removal, replacement of boilers, new and replacement equipment and improved storage facilities for the operating suite. The work was planned to be completed in September 2016 at a cost of $1.75 million.
In order to continue providing services to the area, NSW Health contacted Aspen Medical's modular clinical infrastructure solution as a temporary Operating Theatre (OT).
Over the course of the deployment Moree District Hospital completed 349 procedures in the temporary surgical facility. Of these 349 procedures, 56 were emergency procedures that would have been transferred to another site to have their urgent procedure had Aspen Medical's unit not been on site at Moree. The cost of transferring a patient urgently from Moree is estimated at over $5,000 per transfer. This does not include any costs for transferring the patient back to Moree from another site. Moree District Hospital estimated a minimum saving of $300,000 over the course of the deployment of the unit.
The following elective and emergency procedures were conducted in the temporary surgical unit:
10 x Laparoscopic Cholecystectomy
9 x Laparoscopic Appendicectomy
144 x Endoscopy
23 x Caesarean Section
8 x Orthopaedic
63 x Ophthalmology
7 x ENT
This [unit] meets every standard. It actually goes over and above the standards […], this unit will save lives.

Sharon Nash, Clinical Nurse Consultant Perioperative Services – NSW Health  
Challenges
restricted space at location
politically-sensitive.
Download
Download the Moree Hospital project profile PDF by clicking here.