Longreach Hospital, QLD
Two modular clinical infrastructure units deployed as a temporary Emergency Department to provide coverage during renovations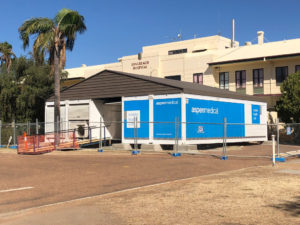 Background
Longreach Hospital is the region's major healthcare facility offering 31-bed inpatient care, 24-hour Emergency Department, pharmacy and medical imaging services, elective surgery, maternity services and a dental hub. There are 4308 people living in the hospital's catchment area. The facility is located 685 kilometres by sealed road from the Rockhampton Base Hospital, 1176 kilometres from Royal Brisbane and 1171 kilometres from Princess Alexandra Hospitals.
With the hospital's Emergency Department (ED) and Operating Theatre (OT) to be renovated and updated, Central West Hospital and Health Service under guidance by Queensland Health Capital and Asset Services Branch contracted two Aspen Medical modular clinical infrastructure units to provide cover during the works. In total, the units were in place for 15 weeks at Longreach Hospital.
Due to the remote location of Longreach Hospital and without the MHUs in place there would have been no Emergency Department in the region to support the community.
Challenges
slight modifications to the layout of the units to allow ED configuration
remote location.
Download
Download the Longreach Hospital project profile PDF by clicking here.
Get in touch