Surgical unit removed from site using remote video link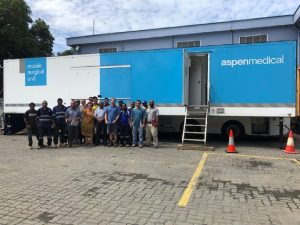 In May 2019, Aspen Medical's clinical infrastructure team deployed our original mobile surgical unit 'Lorna' to Port Moresby to support our partners at Paradise Private Hospital (PPH).
Initially, Lorna was deployed for a 12-month period with a view to being redeployed on completion of that contract. The advent of the COVID-19 pandemic created a dilemma as the clinical infrastructure team were unable to enter PNG to conduct the move.  As such, Lorna remained in place until the situation in PNG became clearer.
In early 2021,  the Aspen Medical team commenced a plan to redeploy Lorna from the PPH site and to a secure yard in Port Moresby. To complicate matters, the team was required to perform this task via a video link hook-up between the clinical infrastructure team in Brisbane and a team of local contractors on the ground in Port Moresby.  Lorna was successfully removed from the PPH site without incident and under police escort.  Lorna is now sitting in a secure yard at Geruhu, PNG awaiting her next adventure !